Maijun Premium Gripin Cream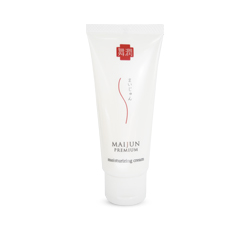 Maijun Premium Gripin Cream
Moisturizing cream. It helps you have hydrated and firm skin by balancing sebum production.
Retail Price(Excluding Tax)
¥5,500
Contents : 60g
---
Maijun Premium Gripin Cream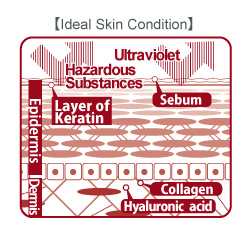 Maijun premium Gripin cream contains Gripin (Maitake mushroom extract), Acetyl hydroxyproline and soluble collagen and it is a moisturizing cream with no added colouring. Moisturized and smooth skin contains water and hyaluronic acid. Moreover, it is protected by sebum that prevents the loss of water from the skin due to evaporation. The content of Damask rose flower oil from Bulgaria, a natural essential oil supports the control of emotion and relaxes tension as well as providing a pleasant odour.
---
Gripin (Maitake Extract Lipid)

Gripin is phytolipid component extracted from the Maitake mushroom. Its function is in the restoring of the skin to a smooth and elastic condition. The skin moisturizing ingredients of Gripin are completely different to those ofotherproducts currently available. In collaborative research with a pharmaceutical university in Japan. Gripin has been proven to have the effect of increasing the natural production of sebum and also of enhancing the body's natural enzymic stimulation of hyaluronic acid biosynthesis.
---
N-Acetyl-L-Hydroxyproline(AHYP)
AHYP is an amino acid of collagen in the skin. It is an important ingredient for keeping the skin smooth and elastic.
Soluble Collagen
Soluble collagen is hydrolyzed collagen and which is in the form of small molecules. Because of this it penetrates into the keratin layer and maintains the lubrication in the skin.
Damask rose flower oil from Bulgaria
The Damask rose is loved by people all over the world as a symbol of beauty. Damask rose flower oil from Bulgaria, a natural essential oil is added to Maijun Premium Gripin Cream. It delivers transparency, shine, elasticity and lubrication to the skin. Its scent has the effect of controlling emotion and relaxing tension.

Ingredients

Water, Squalene, Pentylene Glycol, Butylene Glycol, Cetearyl Alcohol, Caprylic/Capric Triglyceride, Glyceryl Stearate SE, Polyglyceryl-10 Stearate, Milk Lipids, Olea Europaea (olive) Fruit Oil, Dimethicone, Stearic Acid, Betaine, Batyl Alcohol, N-Acetyl-L-Hydroxyproline (AHYP), Peg-150 Stearate, Betaine, Potassium Hydroxide, Carbomer, Xanthan Gum, Grifola Frondosa Extract, Tocopherol, Sodium Stearoyl Glutamate, Lecithin, Rapeseed Oil, Damask Rose Oil, Soluble Collagen *Coloring additive-free
---