Quartenol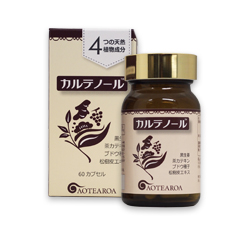 Quartenol
Anti-Aging supplement with anti-oxidative and anti-glycation ingredients.
Retail Price(Excluding Tax)
¥4,500
Contents : 450mg × 60 Capsules
---
---
Product description
Quartenol
Anti-oxidation + Anti-glycation = Anti-Aging
Polyphenols are the components that protect plants from stresses such as UV-B radiation. Polyphenols are components that are naturally included in the seeds and bark of plants. However, the seeds and bark of plants are not in a suitable form for providing adequate food and nutrition as they are. Quartenol is a blend of four pure plant extract powders (black ginger, green tea catechin, pine bark, grape seed). Taking Quartenol on a regular basis may help to maintain youthfulness and minimize stress.
Recommended for those who:
experience over tiredness.
concern about your lifestyle.
concern about maintaining youthfulness.
have too much stress.
Black ginger
Black ginger, also known as black turmeric, is rich in nutrients such as polyphenols and minerals as compared to regular ginger and turmeric. The function of activating the longevity gene is about five times stronger than that of resveratrol. This is due to the polymethoxy flavonoids which are one of the main components in Black ginger.
Green Tea Catechin
Green tea is a popular and healthy drink throughout Asia. The astringent component catechin has been reported to provide various health functions in the many scientific and medical studies conducted on it since its discovery in 1929. Quartenol contains green tea extract powder that contains more than 40% of the most powerful catechin epigallocatechin (EGCG). The extraction process used to obtain EGCG reduces the level of caffeine normally present in green tea to less than 0.5%.
New Zealand Pine Bark Extract
The pine bark extract powder in Quartenol is derived from the 100% natural bark of New Zealand grown Pinus radiata trees. It contains more than 70% of Oligomeric Proantho Cyanidins (OPCs) in addition to 40 other natural components such as flavonoids and phenol related compounds.
Grape Seed Extract
Grape is known to include a wide variety of polyphenols, however, 50% to 70% of them are in the seeds that are not eaten. Quartenol contains the natural components of grape seed that are extracted by water. The grape seed component in Quartenol has an ORAC value of 6,000units/g. The ORAC value (oxygen radical absorbance capacity) is a measure of the antioxidant capacity.
---
Product information
Ingredients
flaxseed oil, black ginger extract, green tea extract, grape seed extract, pine bark extract, fish gelatin , glycerol, bee wax, malt extract
Contents
450mg × 60 Capsules
Dosage
2 Capsules per day, take with water.
---