Serepen Pigment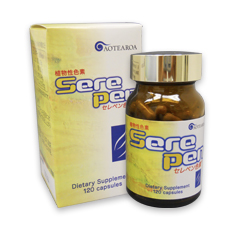 Serepen Pigment
A supplement that contains a pigment extracted from Saw Palmetto. Research has shown that the pigment has anti-angiogenic activity.
Retail Price(Excluding Tax)
¥18,000
Contents : 245.5mg x 120 Capsules
---
Serepen Pigment
A new material, Serepen Pigment, has been discovered during research into extending longevity.
Serepen Pigment is derived by a unique extraction method from Saw Palmetto. Research has confirmed its ability to address diseases such as cancer, psoriasis, Rheumatoid Arthritis and, ARMD(age-related macular degeneration). This research is continuing at the University of Hong Kong and a university in Japan. It is a new field of developing research and it is patented.
Ingredients
Saw palmetto extract, Dry yeast, Starch, HPMC (hydroxypropyl methylcellulose), Stearic acid calcium salt
Contents
35g (245.5mg x 120 Capsules)
Dosage
Take 3 - 6 capsules daily with water or lukewarm water.