Super Maco A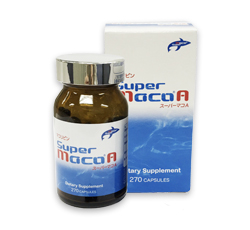 Super Maco A
A supplement combined with Shark Lipid (composition of 8 different types of Phospholipid) and Flex Seed Oil. The unique Shark Lipid inhibits angiogenic activity.
Retail Price(Excluding Tax)
¥12,000
Contents : 200mg x 270 Capsules
---
Super Maco A
Macolipin is a unique lipid derived from shark muscle. It has been investigated by Otago University and Industrial Research Limited, a government research institute in New Zealand. It has been available since 2003 as Super Maco in clinics, pharmacies, and drug stores. Super Maco A was launched in October 2016 and it also contains Macolipin. "Maco" means shark in Maori, native in New Zealand.
Macolipin has demonstrated anti-angiogenesis activity in scientific studies. Angiogenesis plays an important role in the body in a number of diseases both in the physiology and pathophysiology. It is known that angiogenesis induced by VEGF, FGF-2, TGF-beta and PDGF is inhibited by Macolipin. It is also known that angiogenesis is involved in the proliferation of cancer cells, deterioration in rheumatoid arthritis, psoriasis, diabetic retinopathy, skin wrinkles, and obesity et al. Macolipin has been in use for 15 years and now has plenty of evidence of its efficacy from clinical trials in patients.
The dietary supplement Super Maco A contains Macolipin and linseed oil and we believe that this combination works more efficiently. We are pleased to announce that we can offer an affordable price comparable with that of the previous product.
---
Macolipin
Macolipin is an unique marine derived lipid. It has strong angiogenesis inhibitory properties which are valuable for inhibiting tumour development and metastasis in cancers.
---
---
What is Angiogenesis?
Angiogenesis is an important natural process, it occurs in the healthy body for healing wounds and for restoring blood flow to tissues after injury. Abnormal blood vessel growth is now recognized as a "common denominator" underlying many deadly and debilitating conditions, including chronic inflammation, skin photoaging, psoriasis, cancer and its metastasis, and many other disorders. Angiogenesis is also closely related to the progression of those disorders.
Ingredients
Flaxseed oil, Shark Lipid, gelatin, Glycerin, Antioxidant (V.E), Cacao pigment
Contents
54g (200mg x 270Capsules)
Dosage
Take 3 - 9 capsules daily with water or lukewarm water.
---