Vida Sana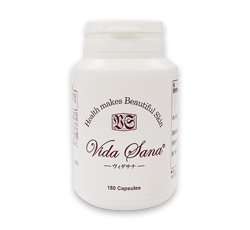 Vida Sana
Enhancing your beauty with numerous nutrition from Jobs' tears Extract, Saw Palmetto, Vitamin C, B2 and B12
Retail Price(Excluding Tax)
¥5,000
Contents : 470mg x 180 capsules
---
---
Product description
Enhancing your beauty with numerous nutrition
Combination of Pearl Barley Extract and Serepen (red pigment of Saw Palmetto) to support brightening your skin and anti-wrinkles. Additionally containing vitamin B2 and Vitamin B12 to assist healthy skin glow.
"Vida Sana" means "having a healthy life" in Spanish. This product will support your health as well as skin beauty.
Jobs' tears Extract
Job's Tears (Coix lacryma-jobi) have been used for medical treatment for long time since 91 BC especially in China. In 1708, Dr. Masashi Kaigen, the herbalist, described Jobs' tears can be used for recovering the health.
In recent years, researches on Jobs' tears have been scientifically explicated, and its usefulness for maintaining health and youth has been proved.
Serepen
Serepen is a red pigment from Saw Palmetto fruit with a special extraction method. There is a confirmation from European Academic Societies (2015 EACR), International Scientific Magazines (2016 Molecular Science Magazine) and University of Hong Kong for its usefulness. Regarding the research, Serepen is still on-going as well as we obtained patent.
---
Product information
Ingredients
Jobs' tears extract (From Japan), Starch, Saw Palmetto extract, Vitamin C, HPMC, Calcium Stearate, Silicon dioxide, Vitamin B2, Vitamin B12 (Milk Derived)
Contents
470 mg x 180 capsules
---