Pernol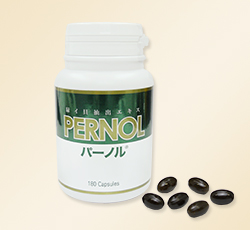 Pernol
Developed to help to maintain joint mobility.
Retail Price(Excluding Tax)
¥8,800
Contents : 450mg x 180 Capsules
---
PERNOL
PERNOL was developed to help to maintain joint mobility and well being by combining green lipped mussel extract powder (Biolane), mussel extracted lipid (GMEL), high purity hyaluronic acid, devil's claw, cat's claw and vitamin B1, B6, B12.
Recommended for those who:
are concerned about joint problems.
bothered by sensitivity to cold.
are troubled with fatigue every day.
are concerned about skin disorders.
Green lipped mussel
Green lipped mussels are cultivated only in New Zealand. They are bivalve molluscs having a beautiful green coloured shell and containing amino acids, minerals, lipids and polysaccharides. They are called "Miracle shell" from their abundance of well-balanced nutrition which has been traditionally recognised by New Zealand indigenous people, the Maori for relieving troubles in joints. Green-Lipped mussel extract has attracted attention in the medical field since the early 1970's and research has been conducted in universities all over the world. Green-lipped mussel extract is taken by people who have trouble with the pains of arthritis and aging of the joints. Research has been published not only in New Zealand, but also in Australia, America, Britain and Japan.
---
Devil's claw
Devil's claw is a genus of plant in the sesame family originating in the deserts of Africa. Indigenous people call it devil's claw as its fruit has 2 prickles with shape of claw. Devil's Claw has analgesic, sedative properties and is recognized in Germany as pharmaceutical products for reducing inflammation and pain in the joints.
Cat's claw
Cat's claw is a woody vine found in the forest land of Peru in South America, that has been traditionally used from the period under the Inca Empire for the relief of arthritis and inflammatory conditions. Its name is from its claw-shaped thorns like a those of a cat. Cat's claw also contains 6 types of alkaloids.
High purity hyaluronic acid
Hyaluronic acid is one of the mucopolysaccharides that exists in the parts of the body that contain a relatively high content of water such as the eyes, joints, skin and umbilical cord. It has been widely used for cosmetic products as its water retentive properties are extremely high. Moreover, it has a lubricating function that helps to reduce the frictional resistance in the joint tissues.
Ingredients
Green lipped mussel extracted powder (Biolane), GMEL (green lipped mussel extracted lipid) oil, Gelatine, Agaricus mushroom oil, Hyaluronic acid, Cat's claw extract, Devils claw extract, Bee wax, Heme iron, Propolis extract powder, Vitamin B1, Vitamin B6, Vitamin B12, Vitamin E, Olive oil, Glycerin fatty acid ester, Glycerin
Contents
450mg × 180 Capsules
Dosage
3 - 6 capsules daily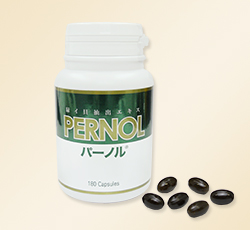 Pernol
Developed to help to maintain joint mobility.
Retail Price(Excluding Tax)
¥8,800
Contents : 450mg x 180 Capsules
---