Metabolic syndrome is a set of risk factors that includes: abdominal obesity, a decreased ability to process glucose (increased blood glucose and/or insulin resistance), dyslipidemia, and hypertension. Patients who have this syndrome have been shown to be at an increased risk of developing cardiovascular disease and/or type 2 diabetes.
To supply growing adipose tissue with nutrients and oxygen, the vasculature responds by increasing the number and/or size of blood vessels. In early-stage development of adipose tissue, adipogenesis is tightly associated with angiogenesis. Development of obesity is associated with substantial modulation of adipose tissue structure, involving adipogenesis, and angiogenesis and extracellular matrix remodelling. Thus, adipose tissue explants trigger blood vessel formation, and in turn adipose tissue endothelial cells promote pre-adipocyte differentiation. Modulation of angiogenesis and of proteolytic systems may have the potential to impair adipose tissue development.
In 1998, it became clear that leptin (the hormone that regulates food intake)is one of the angiogenic inducers by Yale University in the US and published in the journal "Science". Lipogenesis (Adpogenesis), angiogenesis and extracellular matrix reconstruction will be needed for the formation of obesity.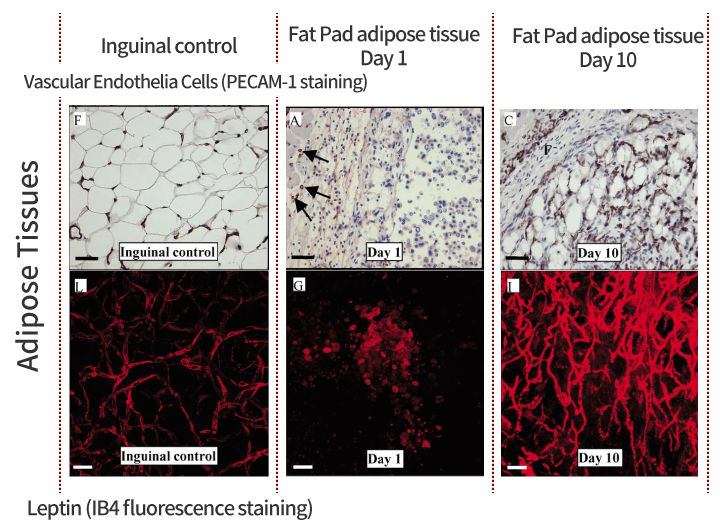 Relationship between Angiogenesis in Diabetic Retinopathy and obesity
Ref: FASEB J. 2004 Jun;18(9):983-985
Evidence has been gathered regarding the involvement of angiogenesis in metabolic syndrome-associated disorders, including visceral obesity, dyslipidaemias, atherosclerosis and diabetes. Indeed, metabolic syndrome is characterized by several features that actually modulate angiogenesis.
In the past years, efforts have been made to develop therapeutic strategies targeting angiogenesis, mostly in oncology. However, recent evidence indicates that angiogenesis is required for many disorders of distinct etiopathogenic origin, namely the ones associated with metabolic syndrome. The increasing incidence of this syndrome worldwide, as well as the absence of effective therapeutic strategies, elucidating the angiogenic pathways that play a role in these disorders may be of great interest in order to design novel therapeutic approaches against this major public health challenge.