celebrity HANA placenta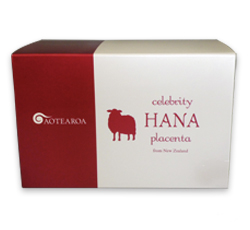 celebrity HANA placenta
A supplement to help you to keep your beauty and to promote general health and wellbeing using New Zealand Sheep Placenta.
Retail Price(Excluding Tax)
¥8,000
Contents : 500mg x 120 Capsules
---
---
Product description
Celebrity Hana placenta
Celebrity Hana placenta is a supplement to help you to keep your beauty and to promote general health and wellbeing. We have combined New Zealand sheep placenta, proteoglycans and Cherry blossom (Sakura) extract in a capsule. With these three components, a synergistic effect provides your skin with clarity, moisturizing and transparent sense.
Sheep Placenta
Placenta has traditionally been used in China, and sheep placenta was introduced in a book published as long ago as 1695 in the period of the Kangxi Emperor.
Sheep placenta contains a rich source of nutrients 18 different types of amino acids, collagen, hyaluronic acid, nucleic acid, 7 different types of vitamins and 10 different types of minerals.
We refined New Zealand sheep placenta, using high technology, into an ultrafine micro powder in Japan in order for it to have a good absorption rate. The product contains 100% pure sheep placenta, no additives or bulking agents are used.
We believe that sheep grazing on the pure New Zealand land with natural restocking and natural childbirth make the placenta high in nutritional value. We only use high quality sheep placenta which would meet OIE (World Organization for Animal Health). This is the top level world safety standard.
Proteoglycans
Proteoglycans are a natural source of salmon nasal cartilage, hyaluronic acid, and collagen. These flexible materials fill the gaps between cells. They are also present in our body, and are really important materials in order ages.
Cherry Blossom Extract
Cherry blossom (Sakura) is the symbol of beauty in Japan. The extract from cherry blossom is reported to inhibit black spots, macular, rough skin and other causes of skin glycation.
---
Product information
Ingredients
flaxseed oil, Sheep placenta extract powder, cherry blossom extract, proteoglycan, gelatin, glycerol, bee wax, caramel pigment
Contents
500mg × 120Capsules
Dosage
4 capsules daily with meals.
---